Ever wrack your brain for content ideas and come up with… nothing?
It's a pretty common challenge for marketing pros. In fact, I had to sit and think for a little while to put together the right introduction for this blog post! To be honest, creative blocks are more a part of the process than the exception.
If a creative rut is simply a step in execution, how do you get to the next step of overcoming that block?
It turns out that many marketers have go-to strategies for when they can't come up with a topic. They don't go it alone, and you don't have to, either.
We put together these 21 content ideas for your next marketing project to keep your creative process moving. Many of them involve methods that you can reuse over time, so you'll have a technique to turn to when you run out of ideas.
1. Build on the Basics
Your content ideation journey should start with the foundation — your product or service. As you review your main offering, you might find inspiration right in front of you
If you don't know the answers to these questions with the data you have, try performing some fundamental marketing research techniques to collect information on your audience. The information you'll get from your research will make a great reference when you need details on your customers.
2. Research With Google Trends
Where do you turn to find out what people search on Google to find your content? It turns out that Google has a completely free tool to monitor search patterns — Google Trends .
Google Trends has plenty of valuable nuggets of information that reveal what searchers interested in your topic want to know. Let's switch up our examples and check out the search term for "coffee".
Each Google Trends results page shows the term's popularity over the time you specify. The graph ranges from 0 (not enough data) to 100 (peak popularity). As Nick Churick at Ahrefs points out, you can use this data to jump on trends or plan your future content calendar.

You'll also see the term's popularity by region:

Below the term's regional trends, you'll also find topics and queries that people who search for "coffee" also search:

As you can see, you can have Google rank these terms by "Rising" (recent volume) and "Top" (overall volume). Interestingly enough, when I did my research, people who searched for "coffee" also searched for "whipped cream" and "Pabst Blue Ribbon beer". How do you think you would create content based on those unexpected topics?
3. Play With Keyword Modifiers
Keywords — words that best represent a concept or item — make great inspiration for content ideas in addition to their main use in SEO. According to our keyword research guide, a keyword consists of a core term and modifier. By trying out different modifiers, you can find new angles for your content and rank for more search terms.
To create new ideas with this technique, start with a basic topic to use as the main keyword, then add a new angle to it through a modifier.
Try adding these modifiers to your topic to see what you come up with:
You can also use some of the search methods and tools we previously discussed, such as Google Trends and the "People also ask" box, to find more modifiers.
BuzzSumo is another online tool that provides insights on content that performs well with your audience. It offers detailed data on how articles rank on social media and lets you track the performance of different topics and keywords. It'll serve you well as another source of inspiration if your business pays for one of its plans. The BuzzSumo knowledge base also has tips on how to use the platform for content marketing research.
That being said, BuzzSumo works best when you have a paid plan and a North American audience. Its free features are limited to an overview of trending content.
According to Pew Research, about a quarter of adults haven't read a book at all in the past year. Why don't you help your audience keep up with the best reads on relevant subjects?
Try reading a book related to your product and industry and share what your audience can learn from in your content.
Do you have a successful campaign, project, or client relationship that shows off what you can do for your customers? Write a case study about it! A case study breaks down how you solved a problem and the results you achieved.
As you'll see in our guide to writing a case study, this content format typically includes a title, executive summary, subject, problem, solution, and results. If you hop on over to that blog post, you'll get plenty of templates and inspiration.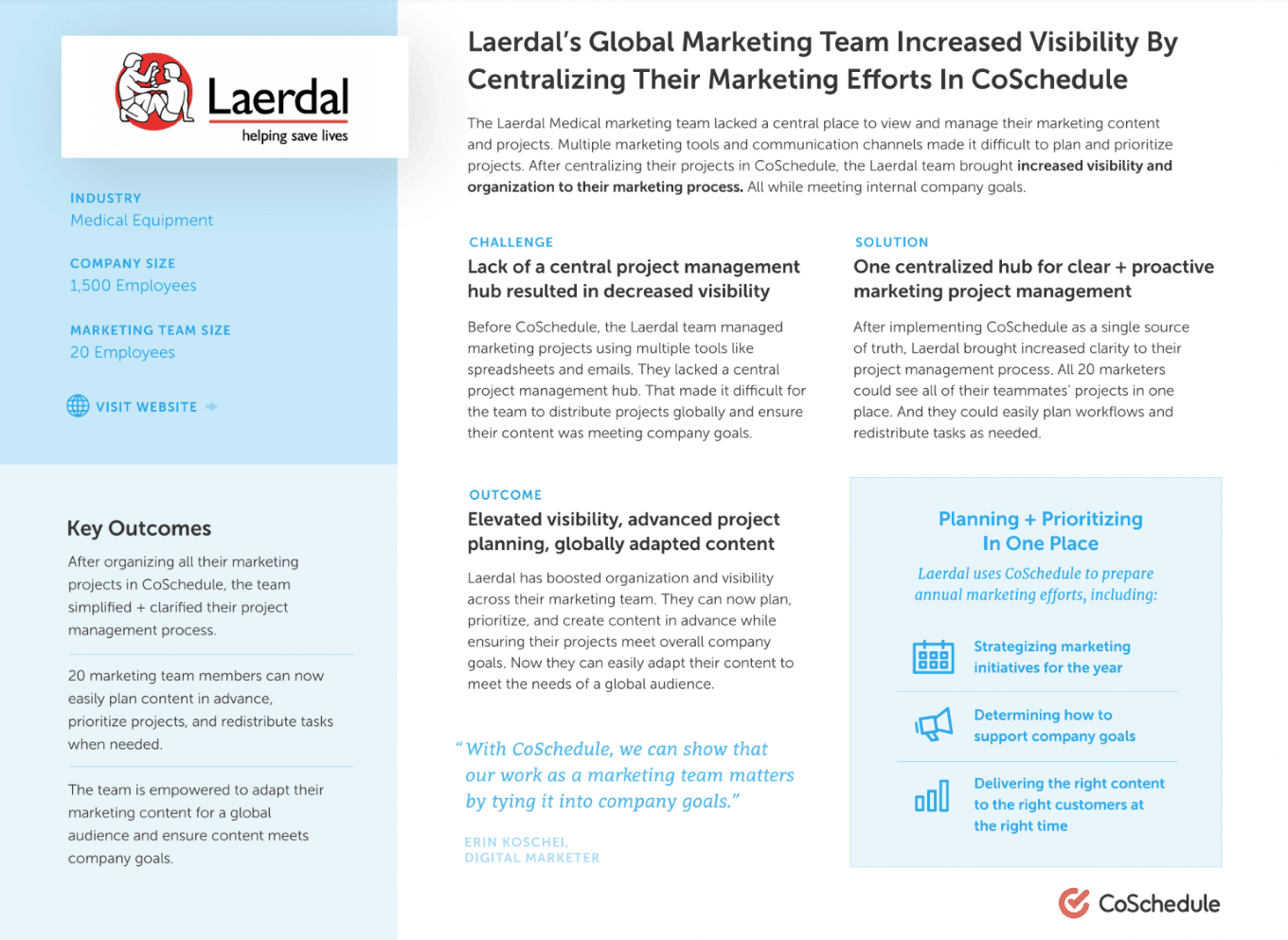 6. Interview a Subject Matter Expert
Subject matter experts have a treasure trove of information that can make your content more unique and authoritative. Simply put, a subject matter expert is someone with a high level of expertise in the topics you cover. Talking to one of these specialists is often easier than it seems, so try it out and learn what you can from the people who know best.
A subject matter expert is someone with a high level of expertise in the topics you cover
7. Make an Expert Roundup
An expert roundup works kind of like a subject matter expert interview — except on a broader scale. These articles gather responses and insight from experts in your industry on the topics and questions you choose.
Learn how to wow your readers with an expert roundup through our comprehensive blog post
8. Repurpose Your Existing Content
As content marketers, we're all looking for ways to get the most mileage out of our work — especially when we have limited time and resources. Try repurposing your content to reach more customers across channels.
For example, when you make a blog post, you can also repurpose its images and text into content types.
9. Conduct a Gap Analysis
Checking what content your competitors are making is a common strategy in marketing, but have you ever tried analyzing what they're not doing?
A gap analysis evaluates what kind of content your field doesn't cover, so you can fill those spaces in the media landscape. You can learn how to conduct one with our free guide and template .
10. Bring Your Own Angle to Industry News
If you follow your industry's news, you already have access to a fantastic resource for content ideas. Consider sharing your thoughts on and responses to the latest happenings in your field, so you can add more content to your website and solidify your thought leadership.
As Rebecca Riserbato at HubSpot puts it, thought leadership is a marketing tactic centered around becoming the go-to expert in your field.
By providing your takes on what's going on in your industry, you'll give your audience context they won't find anywhere else. Plus, you can adapt this strategy to both B2B and B2C audiences.
For example, you can explain to customers how a change in your industry could affect their experience when targeting a B2C audience.
Get Inspired and Organized for Your Content Strategy
We hope these ideas gave you the spark of inspiration you needed to generate unique and useful content for your strategy. With a well of topics to cover, you'll be ready to tackle your content marketing head-on.