6 Steps to create a content marketing strategy to grow your business
Great content is pretty useless without a strategy behind it, and this is the biggest marketing mistake that brands consistently make.
A successful content strategy is carefully created, documented and executed without deviation. Yet a lot of marketers still don't have a content strategy at all — or don't have a documented strategy, believing that a vague idea of where they're heading will suffice. In this competitive era, it won't.
Here's how to create a content marketing strategy that will work.
1) Choose Your Goals
Content marketing can help you accomplish a number of very different goals. The key is to know which goals you're trying to hit — in other words, what you want your content marketing to actually do.
It goes without saying that for most brands, the ultimate goal will always be to get more customers and more sales. Different strategic goals that you can focus on include:
Driving immediate sales
Getting more traffic to your site through social shares or SEO
Improving the overall SEO of your site with a UX review , optimized content, improved CTAs, backlinks, etc.
Building brand awareness
Establishing yourself as an industry expert or thought leader
Generating new leads
Increasing the number of email subscribers
Boosting on-site engagement
Your content marketing strategy can take any or even all of these goals into account, but it's important to note what exactly you want to accomplish with both your overall strategy and each individual piece of content so that you can optimize for it. It's a good idea to start with one or two goals and then change them or branch out once you've seen some good ROI.
2) Set Your Content Marketing KPIs
Your Key Performance Indicators (KPIs) are the essential metrics that you'll watch in order to evaluate your progress towards your goals. These need to be specific, measurable metrics that can clearly demonstrate progress.
For example, if boosting lead generation is your number one goal, you'll likely use a high-value piece of content like an e-book, and stick it behind a data capture form. In order to download the e-book, prospects will need to give you some data — usually name, job title, and email address.
In this case, your KPI could be "number of downloads" of that e-book. Set a realistic target for this metric (say, 100 per month) and if you hit it, you can be confident that your tactic has taken you further towards your overall goal of gathering 100 more leads per month.
Not sure where to start? Try focusing on these KPIs:
Sales: Number of conversions, which can be tracked in Google Analytics once you set up conversion tracking.
Site traffic: Number of website visitors (specifically to your blog posts); you can also utilize Google Analytics to see which posts are bringing in the most traffic.
SEO authority: Your SERP ranking, which can be found and tracked with tools like SEMrush's position tracking:
Brand awareness and thought leadership: Use tools like Mention to track social media mentions of your brand in order to see what people are saying.
Lead generation and email subscribers: Monitor new lead sign-ups, which can be evaluated by tracking the growth of your email list. Make sure to look at the number of new sign-ups and not just overall total, because some amount of churn is normal.
On-site engagement: Measure the comments and social shares that happen directly from your post. These are easy to evaluate with no external tools, though social sharing counters like Cresta Social Share Counter can help. Hotjar, meanwhile, can help you see where people are spending their time on your site and which CTAs they're clicking on:
3) Create Your Content Strategy Document
Rather than just winging it and starting from scratch each time you create a new piece of content, you should document the entire process (and refine it) so that you can simply follow a pre-determined set of steps for the most efficiency.
Here are the major points you'll want to include in this document:
Do your audience research and create audience segments with specific traits — for example people over the age of 50 or people who live in New England. Note which tools you use for this.
Hold meetings with key teams or team members to discover the best strategy as well as which business goals are most important. You'll also need to determine how much budget you have to work with.
Work with creatives (writers, designers, marketers) to come up with engaging campaign concepts that are specifically designed to appeal to your audience (for example, if they're younger, they may prefer video).
Break down the campaigns into different tactics or content forms — for example four blogs, one video, and 10 social posts. Take a look at this article to learn how to create more content in less time: #1 Marketing Strategy: The Content Sprout Method
Figure out who is going to produce which piece content (writer, editor, designer, etc.) and according to what timeline.
Get sign off from key stakeholders, if needed.
Finally, set up tracking for your campaigns — and you're ready to go!
4) Optimize Your Content
For every single post that you write, infographic that you design or video that you create, you should have one specific goal in mind for it. That makes it much more efficient to optimize the living daylights out of that post.
Plus, it makes it easier for you to give users actions that they can take without their feeling overwhelmed, and thus will increase the effectiveness of the individual post.
Specific actions you can take to optimize posts based on your specific goals include:
Sales: Mention products in your posts and include a link towards the end of them with a strong call to action (CTA) urging them to go check it out.
Site traffic: Encourage social sharing, and make sure your content is relevant and full of H2 tags that will help you rank well.
SEO authority: Link your content to other high-value, high-authority sites.
Brand awareness and thought leadership: Link to other content that you've written, especially on other blogs, to show your array of knowledge, and engage with other thought leaders on social platforms.
Lead generation and email subscribers: Place CTA buttons throughout the post to encourage email sign-ups, and use an opt-in widget on the side of the post. This can feature a lead magnet like an e-book or white paper if you have one, or even a free consultation. It can be simple:
On-site engagement: Make it easy for users to leave comments on your site. Disqus is a great tool for this, and it's a plugin that's particularly good at generating not only comments but actual discussions.
5) Format Your Blog Posts
In addition to these above optimization practices, there are other best practices that you can (and absolutely should) apply to every blog post, including:
Call to Action: Always, always having a distinct CTA at the end of every post – and, even better, throughout the post.
CTA Placement: For maximum impact, the CTA button or link should be separated from the last paragraph by at least one space and ideally highlighted, bolded or italicized to draw attention to it. Place a clickable link with specific instructions like "sign up for our e-book here" or "register for our webinar now." The more actionable and specific your CTA, the better.
CTA Copy: Your CTA should also be directly relevant to the goal of your post. In the example below from Shakr, the goal is to get more people using a product, and that's made clear in the CTA:
Social Sharing: Take advantage of social sharing bars, which can be installed through plug-ins and make it super easy for people to share your article – all the reader needs to do is click a button. This will help you distribute your post without any extra effort on your part. Some plug-ins even have social sharing counters, telling other readers how many people have shared, which acts as powerful social proof: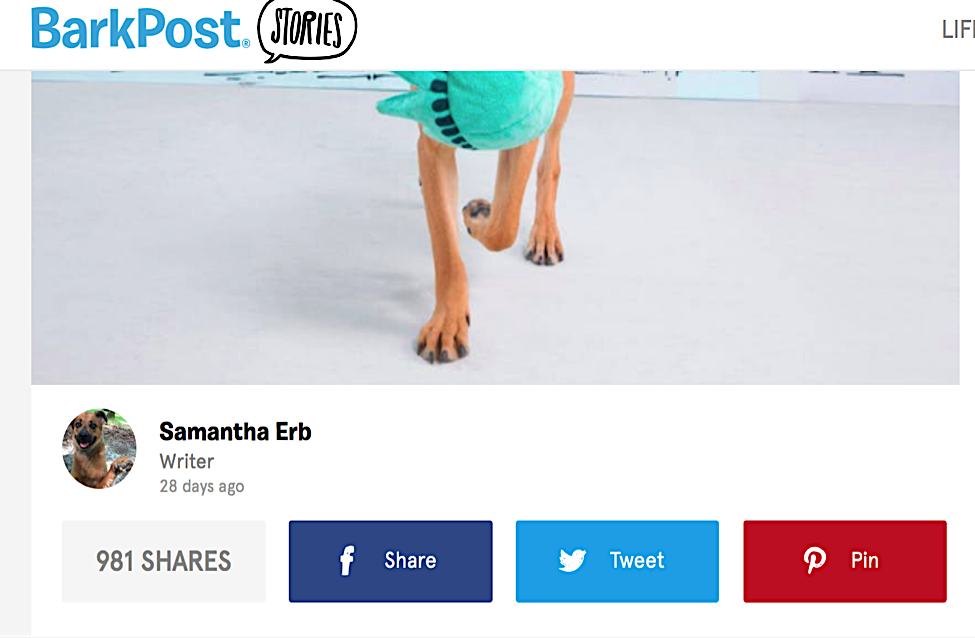 Click to Tweet: Help people easily share a great quote from your article with click to Tweet options. Not only do they make social sharing a breeze, but since they look a little different from the rest of the text, they'll stand out and be more actionable. Here's an example (go ahead, click it to Tweet it!):
Sidebar Widgets: In most cases, your content won't take up the whole screen, so take advantage of that extra space to the right with sidebar widgets that give you more room for email opt-in boxes and places to promote your lead magnet (you can also place these above or below your post):
Related Post: 6 Ways to beat toughest business rival
6) Measure Your Results
Once your content marketing strategy is up and running and you're publishing new posts, videos and lead magnets, it's time to implement the KPI tracking you've set up so that you can see how you're progressing towards your goals.
Keep a close eye on which content is performing best. Do shorter videos get more results than longer ones? Do infographics get more social shares than text-based articles? Do certain types or topics of posts receive more clicks on the CTA?
Google Analytics is your best friend. It's a free tool that will tell you about everything happening on your site, including where you're getting your traffic from, which pages they're entering on, how they're moving through the site, and how long they're staying. It's free and easy to install.
The screenshot below shows the Acquisition section of the tool (in the left-hand column) – a great place to see which medium or source is bringing in the most traffic, how many were new readers (very important!), the highest and lowest bounce rates (low is better), and any conversions you're tracking.
We've set Content Downloads and Free Consultations as two of our Google Analytics goals, and you can see which medium is bringing in visitors who actually convert: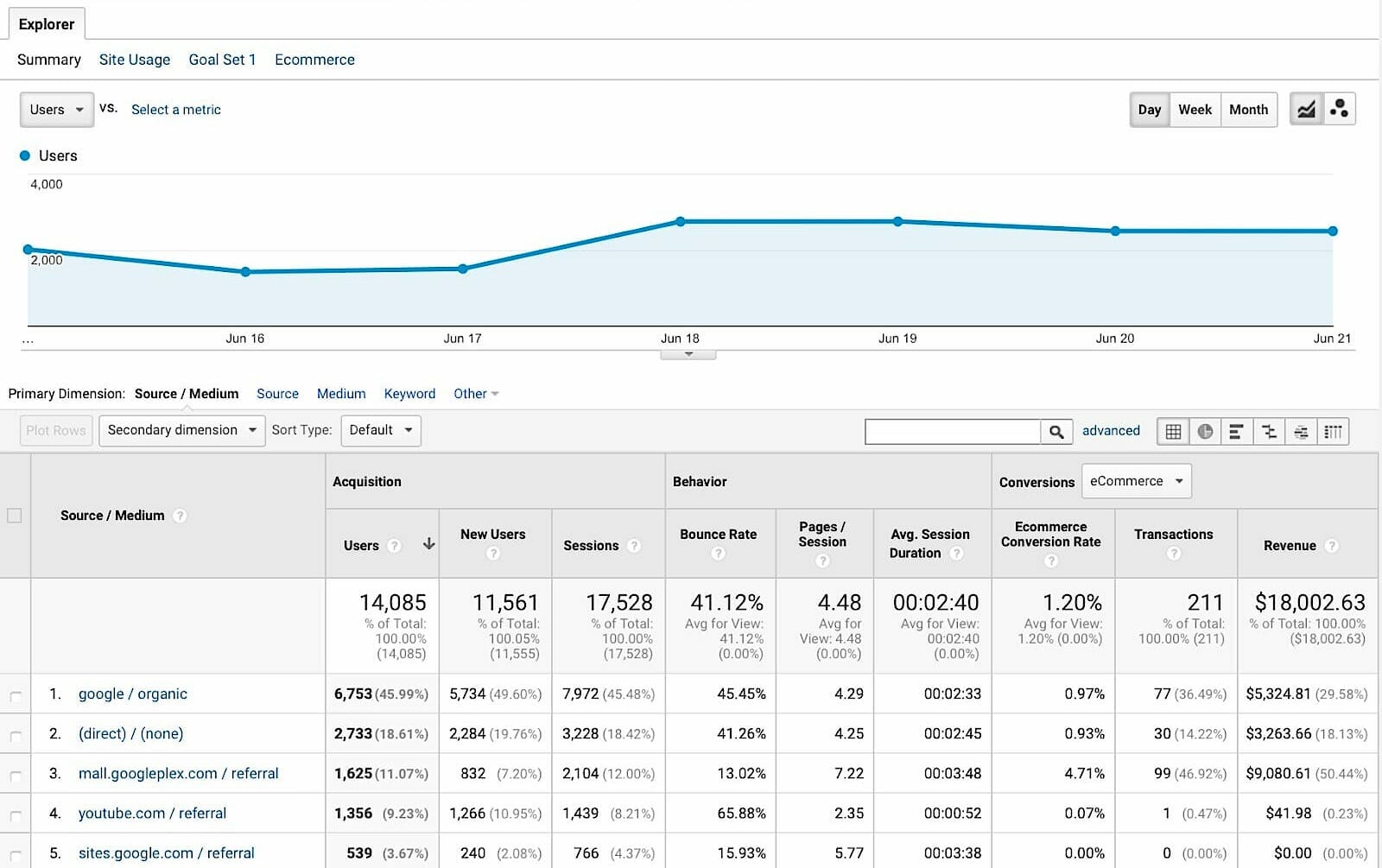 Note: Regarding KPIs — while more traffic is incredibly important, the quality and engagement of that traffic is equally or more so.
For example, if you're bringing in a lot of social traffic, but visitors bounce from your page quickly and/or don't take any action, they're not as qualified as a medium which brings in less traffic, but leads to higher conversion rates. This doesn't mean one medium is better or worse – it could be that your captions on social media are misleading, so people don't stay once they see what your content is actually about.
Look for trends in performance and see if you can find reasons for why some posts, lead magnets or videos do well when others don't. A/B testing is a huge help here.
When we make any major content changes, we annotate them in Google Analytics and keep a spreadsheet with those actions – seeing if the rank, keyword or traffic alters due to that change.
You should also look at the behavior flow dashboard (under "Behavior" in the left-hand column) to see how people are moving to through your site: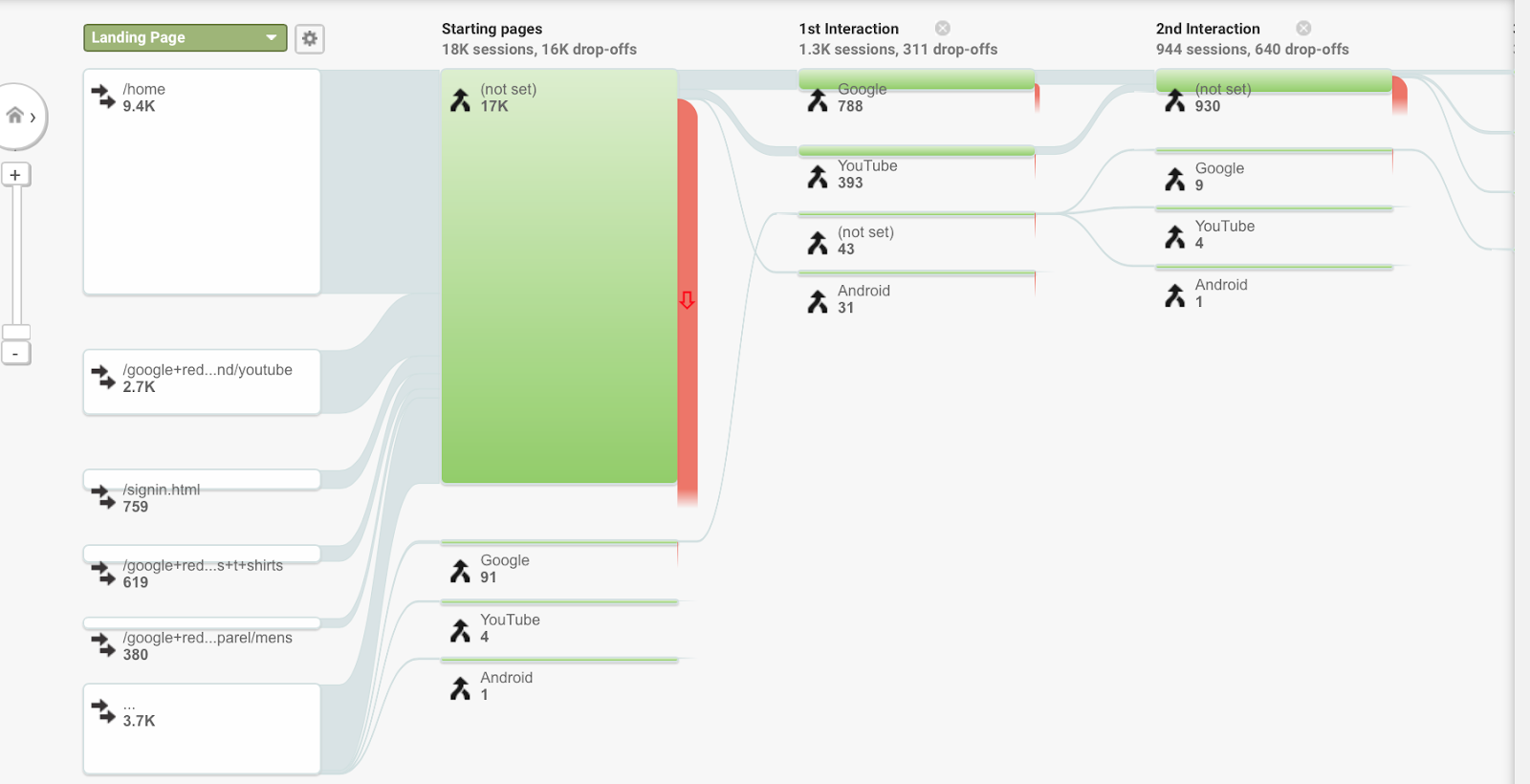 Watch for big drop-off points that stop before or at the lead magnet in order to troubleshoot your funnel.
If users make it through three blog posts but then don't sign up for a related e-book, you need to figure out why. Is the e-book similar in content to the article? Is it not relevant to the article? Are readers simply not interested in the e-book you're offering? Have you not optimized the landing page to explain the value of the e-book? By solving the disconnect on the landing page, you'll be able to get more results.
Continue to measure, analyze and adjust your content regularly. Especially with best practices in marketing changing so frequently, you can't afford not to.