With the onset of the digital revolution, our perception of content and marketing has completely changed over the last decade. Strategies like increasing your video rankings on sites like YouTube are absolutely instrumental in achieving modern success.
Pretty much any field or niche you can think of is incredibly saturated. Because of this, it can be difficult to develop and market content that will effectively reach your target audience.
YouTube, being the juggernaut in digital consumer consumption that it is, makes this discrepancy even more pressing. 300 hours of video are uploaded to YouTube every minute and close to 5 billion videos are watched on a daily basis!
So how can your video stand out from the content noise?
Here are 21 YouTube SEO tools to help you exactly with that!
The easiest one to understand and utilize.
To understand demand and volume, it's important to research content that is similar to the one you are posting. This gives you a good idea of where to start from and can help you identify 'long-tail keywords' in your keyword research.
Google is also a great place to get content ideas. Using the 'People also searched for' and 'Related Searches' sections can give you useful insight into what videos or topics people are interested in.
Ahrefs Content Explorer helps you search a database of over one billion web pages.
Over 60 million videos are included in this database and a lot of traffic from Google gets redirected to these pages.
Using this knowledge, you can create videos that essentially allow you to benefit from both Google and YouTube traffic.
Ahrefs is not only one of the top Youtube SEO tools, but it's also a great content marketing tool as well.
Recommended Reading:5 Ways to Use innovation to grow your business
3. KeywordTool.io
KeywordTool.io is another seasoned veteran in the SEO game and essentially acts as a YouTube autosuggest scraper.
It gives you a solid list of keywords that are divided into various helpful categories like suggestions, questions, prepositions, and hashtags.
This gives you a list you can analyze to make the best decision for your YouTube video's ranking. To get the full list and all the impressions you have to pay their subscription fee but even the free version can give you a lot of useful information.
Another search engine tool that offers a unique and specialized YouTube keyword analysis.
This is a huge plus point in and of itself but Kparser goes one step further and provides search volume and related competition. It also gives you long-tail keywords to include in your description and tags to help SEO even more.
As the icing on the cake, Kparser also offers username, channel keyword and video idea suggestions.
Moz prides itself on having the world's most accurate SEO data and it backs up this claim with a plethora of unique features included in its search engine tool.
It offers rank tracking, generic keyword search, audits, and even backlink analysis. All these things have a good carryover to YouTube. Your videos can benefit immensely if these strategies are implemented.
Google Trends is a great way to check on the relevance of your video idea or keywords.
It shows you search volumes and interest over a period of time to help you decide the right time to launch a video or explore an idea.
For example, if it's the Black Friday weekend, many people would be searching for deals during that period as opposed to cat videos.
This can give you a great idea of which videos to optimize and which to put on the backburner
TubeBuddy is a chrome browser extension that adds a sidebar to YouTube with keyword data that you can observe at a glance. It's one of the best YouTube SEO tools of the list, as it was built to be one since the beginning.
The overlay of the tool gives you the search volume, competition, and gives you an overall keyword score that is ranked out of a 100. This is designed to give you an idea of how competitive your keyword is and whether it is worth targeting.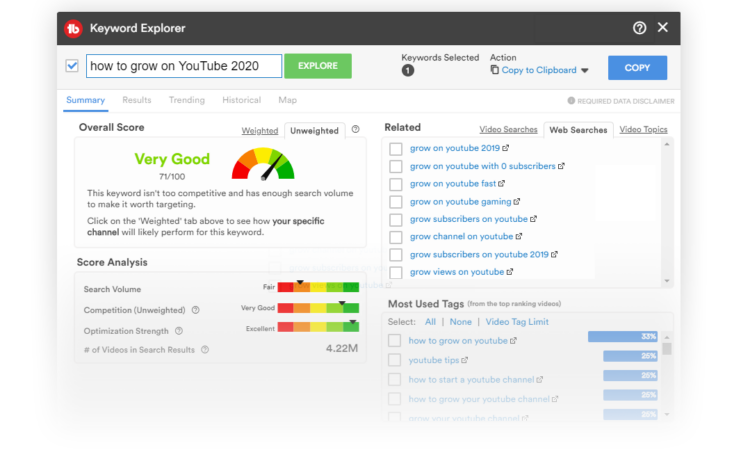 The results might not be 100% accurate of course but it's good to give you some direction and guidance on what you should or shouldn't be doing.
Quite similar to TubeBuddy, vidIQ is another extension that helps you sift through keyword data and gives insight into whether it's worth pursuing or not.
The minimal differences between it and Tube Buddy mean that it mostly comes down to personal preference.
VidIQ has a better more intuitive interface when compared to its competitor and has the ability to export video tags to CSV with a single click which might be useful for some.
Morning fame is an all in one tool that could be instrumental in getting your YouTube videos to rank favorably in searches.
It's an invite-only tool but you should be able to find invite codes with a quick Google search.
Morning fame acts like a consultant that gives you helpful advice on how you should go about deciding your video topic, what keywords to use based on that topic, and a ranking opportunity that you can use to gauge the competition.
It even helps you optimize your video title, description, and relevant tags. It really is a jack of all trades and an excellent YouTube SEO tool.
What better way to optimize your content than by using the source itself.
YouTube autocomplete is a great way to see related searches and what other people might be searching for. It can give you an idea about future videos and will be instrumental in helping you come up with a video name.
The way to use it is to type the first half of your search query in the search area and then observing the list that pops up below.
Unfortunately, you can't view YouTube tags natively on your videos or other videos for that matter. But TagsForYouTube brings this functionality back.
That's pretty much it. While it might not sound like much, it can give you great insight into what popular videos or creators are doing to gain success.
By observing a rival video's tags, you can effectively copy or modify their tags to help gain a similar benefit.